We're lucky enough to work closely with some truly inspiring women here at Belle Isle Moonshine. In honor of #internationalwomensday, we want to acknowledge a few of the women that hustle hard to make, sell, and promote our spirit. We recently chatted with a few of the women who run the ('shine) world–from distribution, to public relations, to photography. Read on to hear these powerful ladies get super real about everything from Imposter Syndrome to self-care to Beyoncé.
Richmond, VA
Founder // Golden Word
Who are some of your lady heroes?
I thought a lot about this question–running through different authors, actresses, and political figures. Ultimately for me, it came down to two people: my mom and my sister. They're the ones who have had the biggest impact on me.
My mom was an entrepreneur as well. She had her own French language school, so she was always working as I was growing up. It was a big opportunity for me to see what running your own business looked like. I think she gave me this entrepreneurial spirit and desire to go out on my own. My sister works and has two children, and she never complains. She makes it look relatively easy, but I know she's really hustling to get it all done. She's the one person I know who boldly goes after what she wants and cuts out everything else.
What was it like starting your own business?
Starting my own business was both harder and easier than I thought it would be. When I first started, it was fairly easy to get business–which I think was a result of having established really deep relationships in the market–but there were pieces that were much harder. Trying to sustain and keep up with growth was extremely challenging. It's a good problem, but it was also one that I needed to deal with. So in some regards so much easier than I thought, and in some so much harder.
If you could give one piece of advice to yourself 10 years ago, what would it be?

Ten years ago I was living in New York City and had started my own company. I was very young, and I was working my butt off. Looking back, if I could give myself one piece of advice, it would have been to go to the gym. At the time, I thought working out would take away from my energy, but in reality it probably would have helped my mood and given me an outlet to take care of myself. If I had done a little more prioritizing of myself, I could have sustained that lifestyle longer and just been healthier.


Elisabeth Edelman was photographed at her home by Kate Magee. She founded golden word, a boutique pr firm, in 2016. Follow Golden Word's happenings on Instagram @goldenwordco!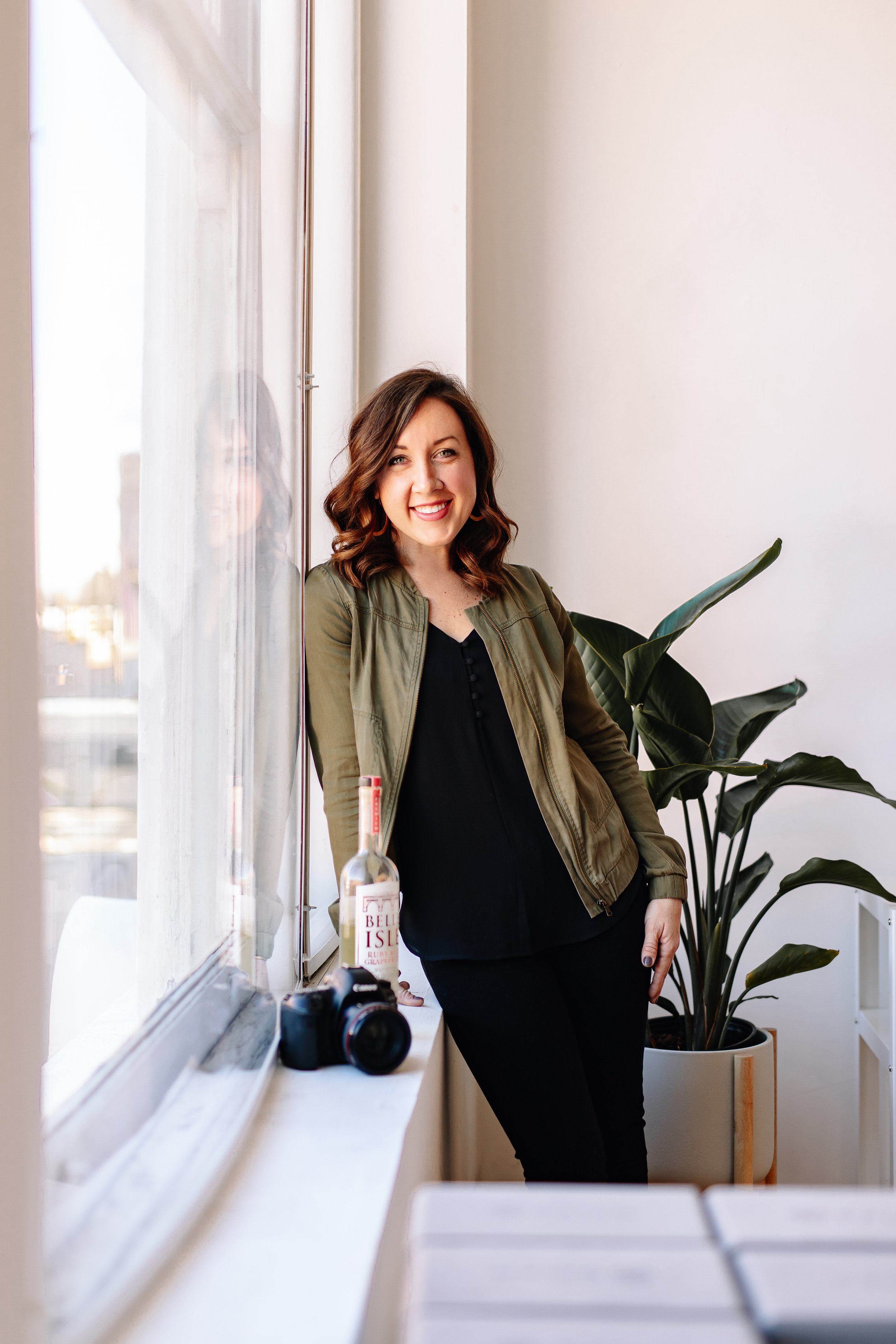 Richmond, Virginia
Photographer // Kate Magee Photography
What do you love most about photography?
I love that I get to interact with so many different people. I know it sounds really cliche, but I love hearing different people's stories. Whether it's a product that they've created or I'm documenting someone's story overseas, you have to get really personal and build trust with the subjects you're photographing. Someone has to trust you enough to hand their product over to you and know that you're going to do a good job documenting it just as much as someone whose home was destroyed by a hurricane at a refugee camp has to trust that you're going to do a good job telling their story to others without exploiting them. Photography makes you ask a lot of questions and dig deep into understanding the person, their passion, and their pain, and then translate that into a photograph.
How did you make the decision to go into business for yourself?
I wish I had a really good answer! This is what I always wanted to do, but it kind of just fell into my lap. I moved overseas first to do graphic design for a mission agency, and they asked me to do photography as well. I said I could take photos, but I really didn't know what I was doing. They then wrote to me and said I was the new Director of Photography. I had no idea what I was doing, and it just took a lot of patience to start cultivating my eye and start learning the skill of photography. I moved to Richmond in 2010 and worked for a photographer as his intern, which turned into an associate position. About a year after that, I moved out on my own and started doing my own business. It's nothing I really set out to do, but I've really enjoyed it.
Who are some of your lady heroes? Why?
This is a very intimidating question, because there are a lot to look up to. I started thinking about who are the women whose stories have really stuck with me. One is Irena Sendler, who was recognized for saving more than 2,500 children during World War II. She took them out of camps and risked her own safety for them. Also Harriet Tubman and Corrie ten Boom! The women I look up to the most are the ones who put the safety of others in front of their own safety. They risk all for the greater good of other people. Now in our culture we're kind of all about ourselves, and I just really appreciate hearing these stories of women who weren't in it for fame. They just knew it was the right thing to do.
If you could give one piece of advice to yourself 10 years ago, what would it be?
Have more courage. I used to think that being courageous was not being afraid of anything. I've learned that it's actually being fearful of something–whether that's success or documenting a story in a war zone–it's okay to be afraid. I think of all the roadblocks I've come across–anything from how I'm going to pay my taxes that year, to having a client I'm really nervous about producing work for, to driving through live landmine fields for a job–whatever it is, it's okay to be afraid, but you have to push past that.
Also, because photography kind of fell into my lap–and I had the eye for it, but not necessarily the mechanics of working my camera–I've carried around an Imposter Syndrome for a while. You know, what if someone's going to find out that I don't know what I'm doing? Obviously, I do know what I'm doing, and I'd like to tell myself 10 years ago to stop listening to that voice that tells you you don't know what you're doing.

What's your favorite Belle Isle cocktail?
It's in the summer on the rooftop at The Graduate: they have a frosé, and I put a shot of Honey Habanero in it.

Atlanta, Georgia
Director of On-Premise Spirits // Georgia Crown Distributing
What does being a strong woman mean to you?
Being a strong woman to me means that I am unapologetically myself. It means that I support other women, and that I have the courage to take chances and risks. It means being kind while standing up for my convictions.

Who are some of your lady heroes?
There are so many. My mother is one. She went to college while raising two strong-willed kids. Michelle Obama feels like a given, too–but I'm saying Beyoncé! She stands up for people that don't have a voice for themselves. She fights for what she believes in, and on top of all of that, her music makes me feel motivated!

What's it like being a woman in the male dominated liquor industry?
It's always an adventure! Most of the time it's not something I think about, but other times it's glaringly obvious. There have been times I have been told to temper my opinions or not be so forward. I know that would not be the case if I was a man. For a time, I did that, but at some point I realized that is not who I am.
Sometimes my forward personality has led to me being called a bitch, and I've decided that I'm comfortable with that.
What was your first job? Do you think it led you to where you are today?
I was an alcohol and drug counselor, and it absolutely did. It gave me a keen understanding of personality and what drives people.

What's your favorite way to drink Belle Isle Moonshine?
100 Proof Dirty Martini!



Lauren Brewer lives in Atlanta with her family. Learn more about Georgia Crown Distributing Co. here!



Richmond, Virginia
Belle Isle Brand Ambassador & graduate student at VCU's Brandcenter
As a woman just starting out in your career, why did you want to pursue advertising?
I think advertising has an incredible opportunity to set the tone and start the conversation of important topics. I want to be a catalyst for making things people want to see and helping move along important conversations.
Do you see your intended industry changing for women? Why or why not?
I hope so! Advertising was kind of known as a boys' club, and I think that's changed a lot from the past 10 or 20 years to now. I think it's going to continue to change with more diversity and more women of color hopefully taking larger roles in advertising. It's important to have people with different opinions and experiences at the table to push that messaging forward.
What does being a strong woman mean to you?
I think being a strong woman is being at a table with a lot of different people and realizing that your opinion matters just as much as everybody else's. That's hard to do a lot of times, because it's easy to believe that you're small–and you're not.
Who are some of your lady heroes?
Caroline Robinson Jones was one of the first black women in advertising who was able to take a VP role at an agency. She started a lot of agencies that marketed, not only to minorities, but created messaging that made sense for everybody. She was one of the trailblazers for marketing and advertising being more about emotions. I think you always have to be grateful for the people who go before you and pave the way for, like, me to even want to be in this industry and have the opportunity to be.

What's your favorite Belle Isle cocktail?
I got this one! The Spicy Gentleman. I think [Belle Isle Community Manager] Robert called it this because we were serving them at a Derby Day event. It has Honey Habanero, which is my favorite, honey simple syrup, and a little bit of lemon juice. It's simple, but it's the perfect drink.
Check for Micah serving cocktails at various Belle Isle events around Richmond or modeling our t-shirts on social media. When she's not slinging 'shine, Micah is busy pursuing a degree in Brand Strategy at VCU's prestigious Brandcenter.
Rochester, New York
Wine & Spirits Brand Manager // Lake Beverage
What does being a strong woman mean to you?
Being a strong woman to me means you are not afraid to show your emotions and use those feelings to connect with peers on a more personal level. Strong women are independent and organized, and they use those skills to set and achieve goals. I also think that strong women do not need to be surrounded by large amounts of people. They shine best when surrounded with a handful of friends or peers that support and guide them to success. We stay true to ourselves and do not try and transform to fit who we think we are supposed to be.
Who are some of your lady heroes?
Both Taylor Swift and Tory Burch. Taylor Swift has always provided positive messages and inspiration through her songs and lyrics. She uses her platform to lift up her fans and give positive reinforcement that it's all going to be okay. Even in my late 20s, I still use her words as encouragement and inspiration to wave at the haters and focus on my own self.
Tory Burch is not only one of my favorite fashion icons, but she's also an amazing representative for female entrepreneurs. Tory saw firsthand the challenges and difficulties of becoming a female entrepreneur and started a foundation to help provide resources for future female entrepreneurs to utilize. The Foundation Fellows Program gives women an outlet to pitch their ideas to a panel (including Tory) with one winner receiving a grant investment. She also offers seminars to her Fellows that offer guidance and advice on growing a social media presence, finance, and their companies. She is more than just pretty shoes and beautiful handbags!
What's it like being a woman in the male-dominated liquor business?
We can also throw young in there! I was only 24 when I started at Lake Beverage in the current role I am still in today. Although it has grown drastically, six years ago this was still a brand new division with new items no one had sold before. Within my own company, I had to quickly show independence and learn an entire side of business I have never worked in before so I could gain the trust of my fellow co-workers and employees. That meant some self-educating and a little trial and error.
I think that our industry still thinks of females in the liquor business as "shot girls" at promotions. They forget that we can also grow share, manage brands, make deliveries, carry our own sample bottles into accounts, and give valid advice to help others grow their business. It all comes down to trust and making my employees, co-workers, bosses, and accounts trust me.
If you could give one piece of advice to yourself 10 years ago, what would it be?
It's okay to have a plan, but let it also be okay if the plan strays slightly off path. You can only control so much.
What's your proudest accomplishment to date?
Lake Beverage started selling wine and liquor [in addition to beer] seven years ago, and I started with Lake Beverage six years ago. In that short period of time, I helped to grow my portion of the business to represent 3% of our total company. That's pretty dang cool!
When Jenna isn't dominating the Upstate NY beverage scene, she likes to relax at home with her husband and dog. Check out the great work she does with Lake Beverage!
Baltimore, Maryland
Area Sales Manager // Belle Isle Moonshine
You're the only Belle Isle employee we're interviewing–and you were one of the first women at the company! Tell us a little about yourself and what you do for Belle Isle.
Wow, I feel so honored! I'm from Baltimore. I have a Cavapoo named Bixby–who is the cutest dog in the world–and I love to travel. I've worked in the liquor industry since I was 22–so, 16 years now. I started as a promotional model and am now working for Belle Isle as the Area Sales Manager for Maryland, D.C., and soon-to-be Delaware.

What's a typical day like for you?
There is no such thing as a typical day in the liquor industry! You plan your day, then a call comes in that completely changes everything. You have to be able to adjust and go with it. Since we are a new product, there are a lot of account visits–both to new accounts to taste them on our products and existing accounts to show them some love and keep them happy. Really, all day, everyday, I'm educating people on what moonshine is, to not be scared of it, and why they should be drinking us over their typical vodka.

The liquor business can be pretty crazy. What's your favorite thing about working in the industry?
First and foremost, the relationships that I get to build with my accounts, my distributor, and my coworkers. Secondly, the creativity it allows me to have in figuring out how to get the brand out there and pulled off shelves. Plus, it's fun! It really is a fun industry. Does it have its moments like all jobs? Of course. But what other job can you go to accounts, hang out with people, and taste them on cocktails!

What does being a strong woman mean to you?
A strong woman has her shit together, is independent, doesn't rely on anyone but herself, goes after what she wants, is not afraid to fail, is confident, and is kind. A strong woman knows she's fabulous and doesn't need to put anyone down to feel better about herself.

Who are some women who inspire you? Why?
Well, my cousin for sure. She is a very strong, independent woman who has taught me everything I need to know about the sales industry, relationships, and life in general. I am so blessed to have her in my life giving me advice. Secondly, all the women out there who have been dealt a hard hand in life–whether it be sickness, an accident, bad relationships, a loss–and are overcoming it and come out stronger in the end because of it. I admire people who have a great outlook on life, even after life's been tough on them.

What's the hardest thing about being a woman in such a typically male-dominated field?
Really, I've been blessed with the jobs and co-workers I've had. Most have treated me with respect and as an equal. Unfortunately, not all women in this field have been so lucky; however, it is really starting to not be so male-dominated. I actually think Belle Isle now has more female employees than male.

If you could give one piece of advice to yourself 10 years ago, what would it be?
Don't underestimate your talent and creativity, and be more confident in getting what you want in life and career. And, for goodness sake, who cares what people think of you? I'm still working on listening to this advice, but I would give it to younger me.

What's your proudest accomplishment to date?
Well, I just won a Team Leadership award at Belle Isle! I've never won a work award, so I'm pretty proud of that. Outside of work, buying my house was a very proud moment for me.

What's your favorite Belle Isle cocktail?
Where to start? Okay, so I'm on a diet and so right now, and I've been drinking Belle Isle Black Label with water and a squeeze of lemon and lime. I like it better than vodka, because when you mix it with water it literally tastes like water–no vodka after-bite. When I'm not on a diet, I love a skinny Grapefruit Crush, or a sweet and spicy Bloody Mary with Honey Habanero. Also, Circa in DC makes an awesome Purple Rain cocktail with the Honey Hab and a blueberry jalapeño shrub. And Wayward Smokehouse's Spiked Chocolate Milk with our Cold Brew Coffee!
Kristin Otto lives in Baltimore with her Cavapoo, Bixby. You can usually find her slinging 'shine in one of our awesome accounts in Maryland or D.C.
we want to say a huge "thank you" to all the women who participated in this story!
happy international women's day!
Belle Isle Moonshine is a premium, handcrafted spirit proudly hailing from Richmond, Virginia.

We take the name Belle Isle from a small, 540-acre island located smack dab in the middle of the James River where Civil War soldiers used surplus corn rations to make moonshine in copper kettles.

Belle Isle Moonshine is distilled from 100% organic corn, grown by three family farms and responsibly sourced. Once triple-distilled, we charcoal filter Belle Isle four times over. Then, we cut it with purified water right from the James River. Our infusions are made with 100% real ingredients, never artificial flavors or color. We use real grapefruits sourced from Texas and California, local honey from the Shenandoah Valley, organic habaneros grown an hour away, and freshly roasted coffee beans from the most socially conscious roastery in Richmond, Blanchard's Coffee Roasting Co.

From there, each bottle of Belle Isle Moonshine is filled, corked, labeled, and packed by hand by our Production team, who check each bottle and batch for quality assurance. Since Belle Isle is made in small batches, you can find the batch number handwritten in the bottom right corner of each bottle.

Distilled from good times and 100% organic corn.